'Foodies', the group that I will grudgingly allow myself to be grouped in for the sake of this argument, will often shill out astronomical amounts of money for a meal. When the quality and experience back up the expense we have no problem with this. An amazing meal creates a lasting memory, and not all of it is about the food. Memories are a justifiable expense. Otherwise you'd take your vacations at home rather than some exotic locale. What is not justifiable is a meal that leaves one wanting, both in palate pleasure and in cash. Not to say that every meal needs to be a bargain, but what happened this last Friday night was assault on my wallet. I didn't go in with high hopes, but I certainly didn't expect what took place.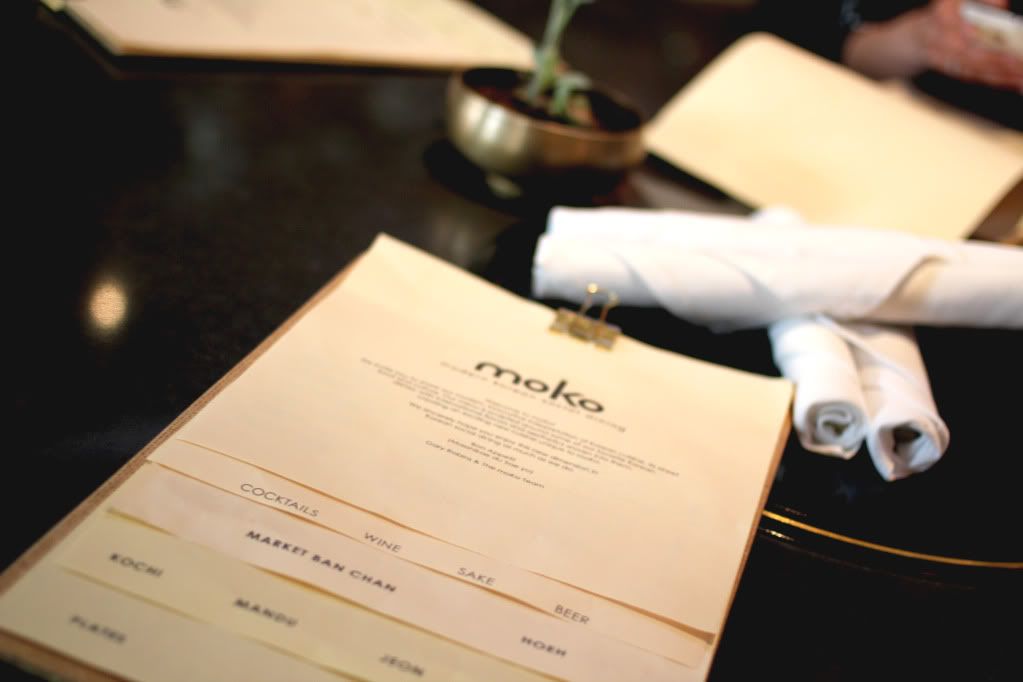 Photo: Rosa Camp
Culver City's food scene is booming. With restaurants like Father's Office, Lukshon, Akasha, Fraiche and Le Saint Amour, Culver City is definitely a destination point. Gyenari was located in the thick of it; across from Akasha and next to Rush Street. However, Gyenari (
not surprisingly
) was unsustainable. Recently Gyenari closed briefly and revamped. Under part ownership of a new investor, they've renamed themselves Moko. No longer an overpriced Korean BBQ restaurant, they're now an overpriced banchan (small plates) restaurant. When I say overpriced, I mean it. Items that come with, as in gratis, with your typical Korean meal are being served at a minimum of 3 @ $7.5. That's the equivalent of $2.50 for freakin kimchi or sprouts.
My dining partner,
The Catty Critic
and I decided to skip the more basic banchan as we couldn't justify the expense. Little did we know it got worse. The following is what took place: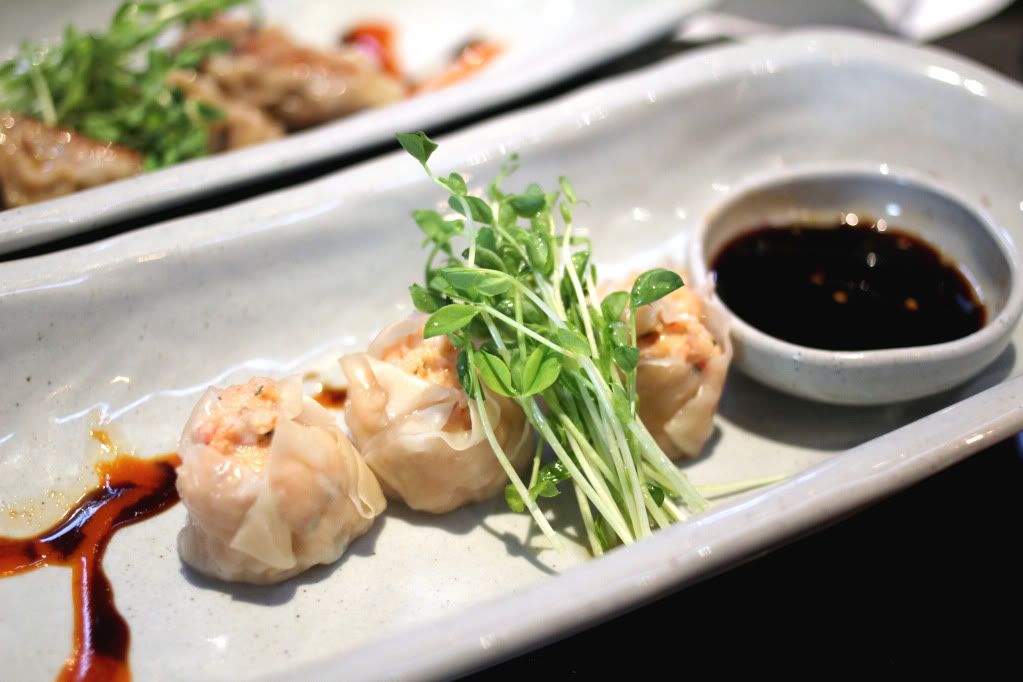 Photo: Rosa Camp
Steamed Shrimp Dumplings
w/ black vinegar dipping sauce
$9:
3 dumplings. 9 dollars. That's $3 per dumpling. I make better shrimp dumplings at home. I can order shrimp dumplings at a dim sum brunch and get 4 for $2. Is this a problem? YES. They were decent, but not worthy of the cost. Not nearly. So began the daylight robbery.
Photo: Rosa Camp
Pan Fried Duck and Foie Gras
w/ sour cherry dipping sauce
$12
. $4 per dumpling. You got some of the flavor of the foie gras in there, but it was mostly duck. Good, but mostly meh. And again, there were only 3. What if we had a table of 4 people? Do we ro-sham-bo? Good grief.
Photo: Rosa Camp
MoKo Wings
crispy jidori chicken in chili garlic sauce w/tofu creme
$10.
Tiniest wings I've ever seen. The chili garlic sauce had promise, but could definitely use more kick.
Photo: Rosa Camp
Kimchi Jean
w/ apple smoked bacon, crisp pork belly and chili plum suace
$12.
The pancake itself was rather bland, but not altogether bad. I shoved off the pork belly (not my thing) to Rosa, and as the plum sauce was on the pork belly, I didn't get much of that. I did enjoy dipping my jeon in the remains of the MoKo wing sauce. I needed something to make up for the lack of spice in the kimchi.
Other items on their menu include an entire snapper fileted at your table, tabletop grilling and various bowls. I don't recommend the grilling: scallops $8/ea. That scallop better be the size of my face.
Given the portions at the insane pricing, we were hungry but couldn't go further. I understand the rent in Culver City has to be pretty steep, and the space is rather large. This does not warrant abusing what few patrons they have. It was a Friday night in Culver City. That place should have been packed. There were maybe 4-5 small tables and one large party there with a few people spreckled at the bar. A word of advice to MoKo, your business plan, like Gyenari before you is likely not sustainable. Rework it. Because at the rate you're going, you'll be unlikely to finish out the year.
Photo: Rosa Camp
palate = annoyed
MoKo
Culver City. I'd give you the address, but I'd like to save you some cash. If you like abuse you can Google it.
Note: Thanks to Rosa (The Catty Critic) for the photos.