'I want to fucking feed you' – Craig Thornton aka Wolvesmouth
On February 16
th
, 2011, I was fucking fed. The month prior I received an invite from
The Catty Critic
to join her at a private dinner set up by
Catty
in London (not the same person). Catty was going to be in Southern California for a week and had asked several of her friends if they would be interested in joining her for dinner. Wolvesden has been getting harder and harder to get a reservation for, and after my canceled dinner back in October due to the move to the current location, I was unsure I would be able to get in. This was a golden opportunity that, of course, I wanted to take advantage of.
Due to the nature of the underground dining scene at Wolvesden, it's BYOB, so I brought along a Bandol Rose from Domaine Ott and a Cote du Rhone. We never did end up opening the red, but the rose paired nicely with the first few dishes. When we got there, there was a small staff comprised of friends of Craig's hard at work cranking fresh papparadelle and cutting up loaves of bread for croutons. A pot of soup, the first course, sat bubbling on the stove. While we waited, we milled about in the wide open loft, drinking wine and catching up. One of the fun things about Wolvesden, is that it brings people whom might never have met, to dine together at one table. In this instance, most of us have either met before or are familiar on social media.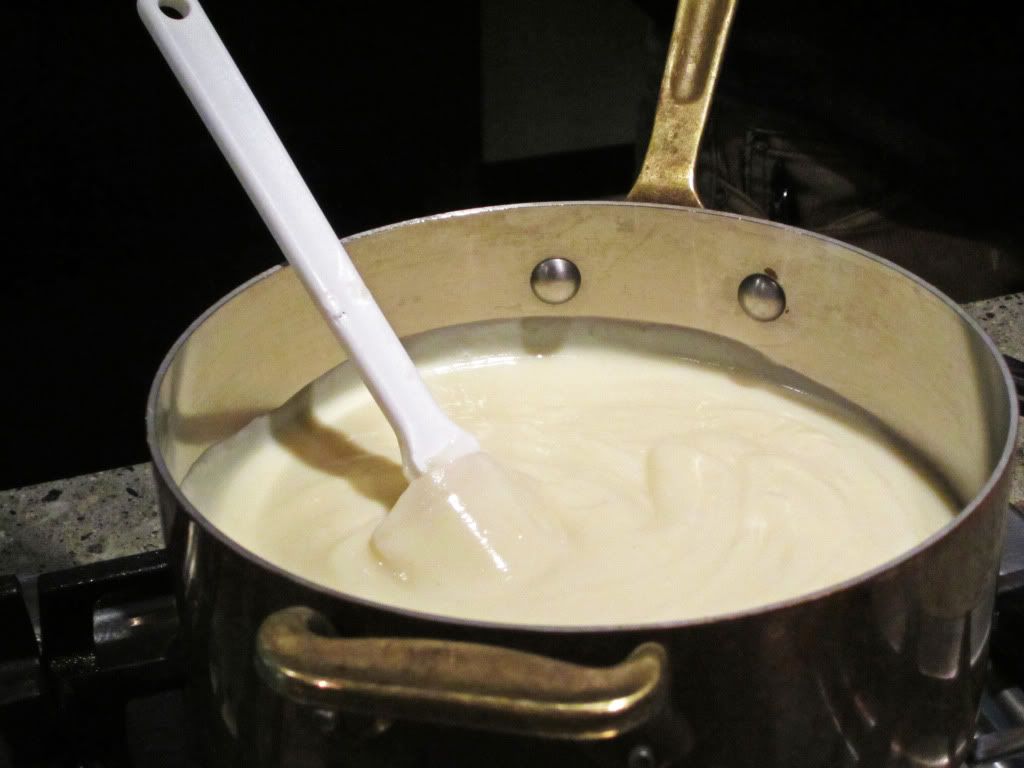 Soon enough, it was time to eat. We began with the soup. Celery root and parsnip soup with a crab salad and croutons. This ranked high in my list of favorites for the evening. Creamy smooth, and not heavy in the least.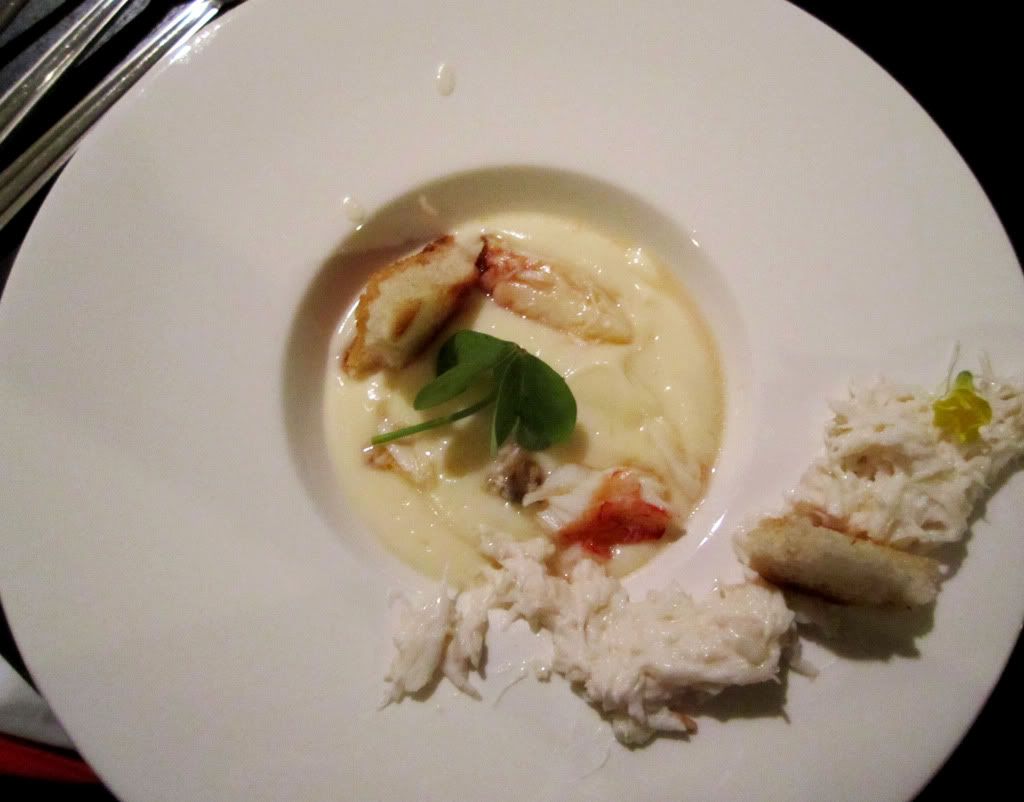 Next up was the scallop: perfectly seared and served with a candied carrot, meyer lemon and bacon bits. It really is getting harder to find a perfectly cooked scallop in Los Angeles. They tend to be overcooked and ridiculously salty. No such problem here. It was fork tender, and went wonderfully with the candied carrot and bacon. I would love to recreate this at home.
Our third course is what became known as the 'deconstructed fish taco'; the Black Sea Bass. Light and juicy, it was served with a burnt tortilla puree, avocado, pickled onions and cilantro flowers. I'm not the biggest fish taco fan, or taco in general fan really, if I'm to be honest. If all fish tacos tasted like this one, I would be happily converted.

The fourth course was my least favorite of the night: skate with chorizo. I just felt the chorizo overwhelmed the fish, and skate isn't one of my faves to begin with.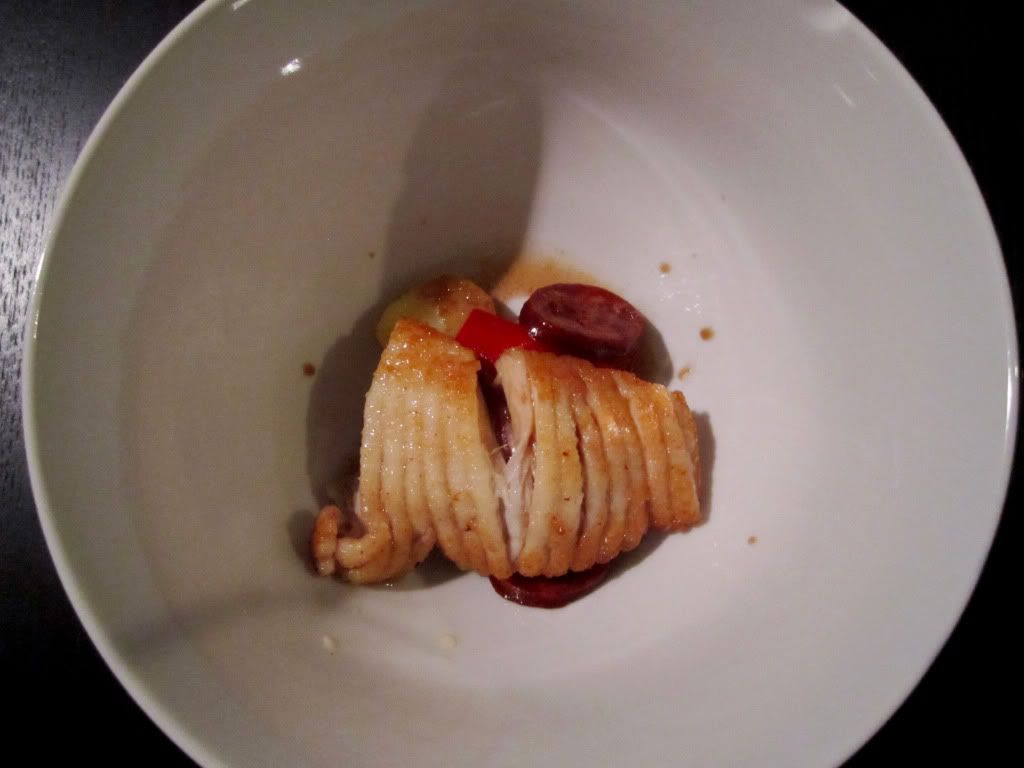 By this time, I was already starting to feel full. The portions Craig was serving up are nothing to be scoffed at. This was no one bite tasting menu. Course five didn't help this feeling as it was a pasta dish and the first of the meat proteins. This is what I've been calling Thumper Stew: shredded rabbit with papparadelle and mushrooms. Not even a tiny bit gamey, if rabbit was this good all the time, more people would eat it. I only wish I could have finished my plate. This is where guilt started to kick in. I hate being wasteful, but I knew I had 5 more courses to power through.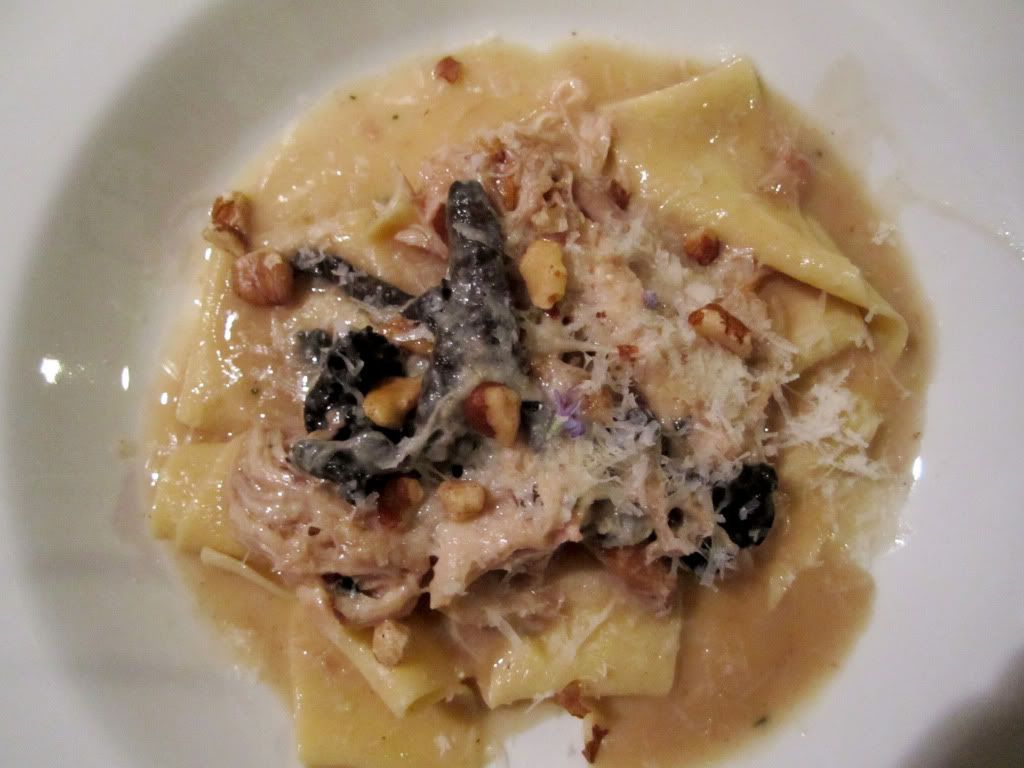 Luckily, the sixth 'course' was a palate cleanser consisting of pop rocks, ground espresso, and dehydrated banana. Definitely fun to eat and you could hear crackling and popping coming from clear on the other side of the table.
Seven brought us to the pork cheek dumpling with horseradish crème fraiche, apple balls, dill and white beets. This was delightful, but SUPER filling. Again, I couldn't finish, though somehow, I caught a second wind for the eighth course.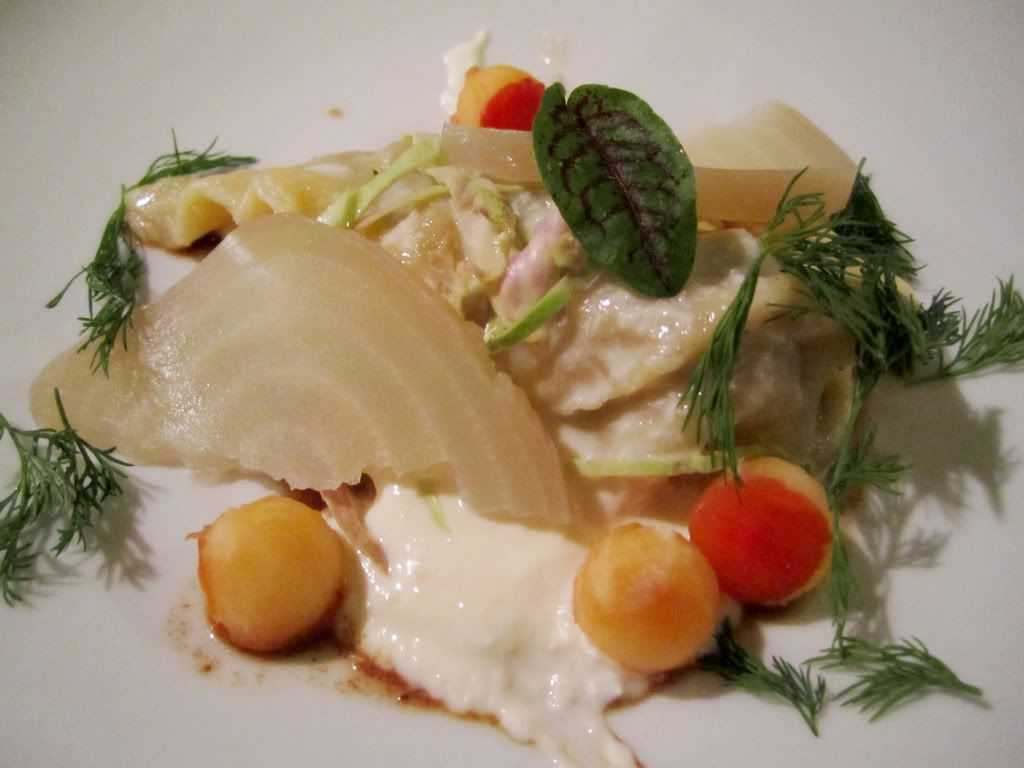 The lamb was my favorite meat course and marked the end of the savory dishes. This lamb was medium rare (as it should be) and served with apricots, pistachio and crumbled pita chips with arugula flowers. I scarfed this down like it was going out of style. Perfection.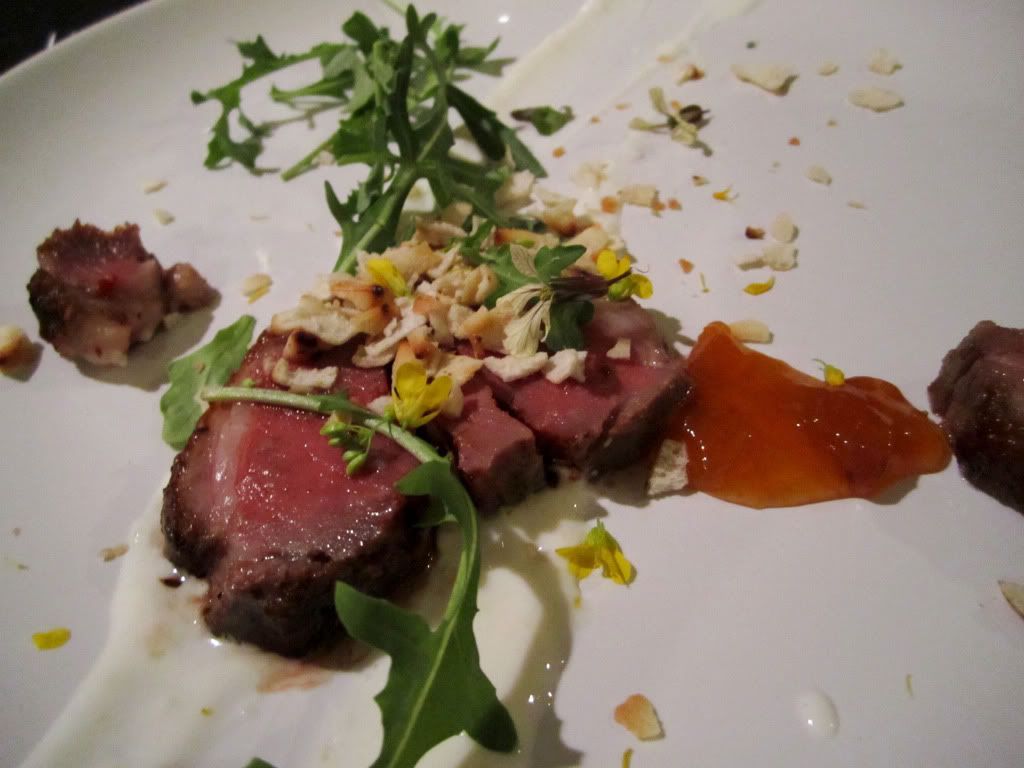 The ninth dish, first of the desserts was crème fraiche panna cotta with yuzu and green tea shortbread, raspberries, and a white chocolate capsule filled with raspberry yuzu and orange blossom. It had the added benefit of having white chocolate shavings over the whole of it. One first had to break the capsule to release the juices that heightened the panna cotta. This would be a fantastic dessert in the warmer months.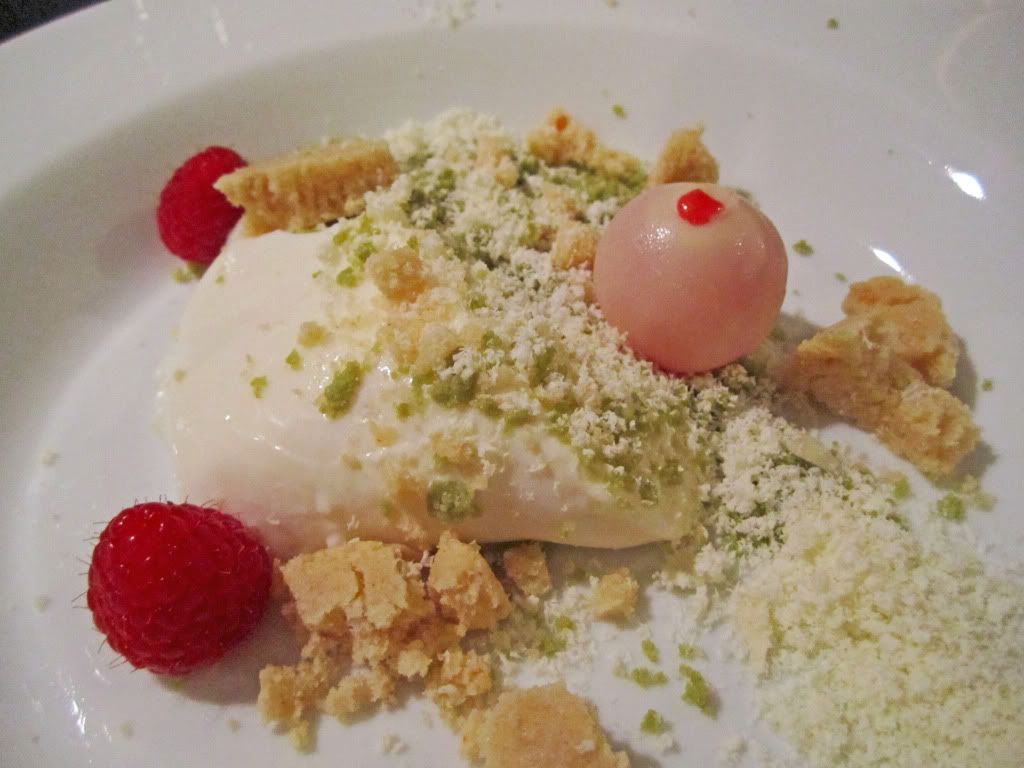 The tenth and final course was what Craig was calling an 'Elvis Sandwich' though it was essentially ice cream. Peanut butter ice cream with French toast, bacon, pop rocks and bananas. It was entirely too rich for me at that point, but in a different mood, I could see myself diving into it.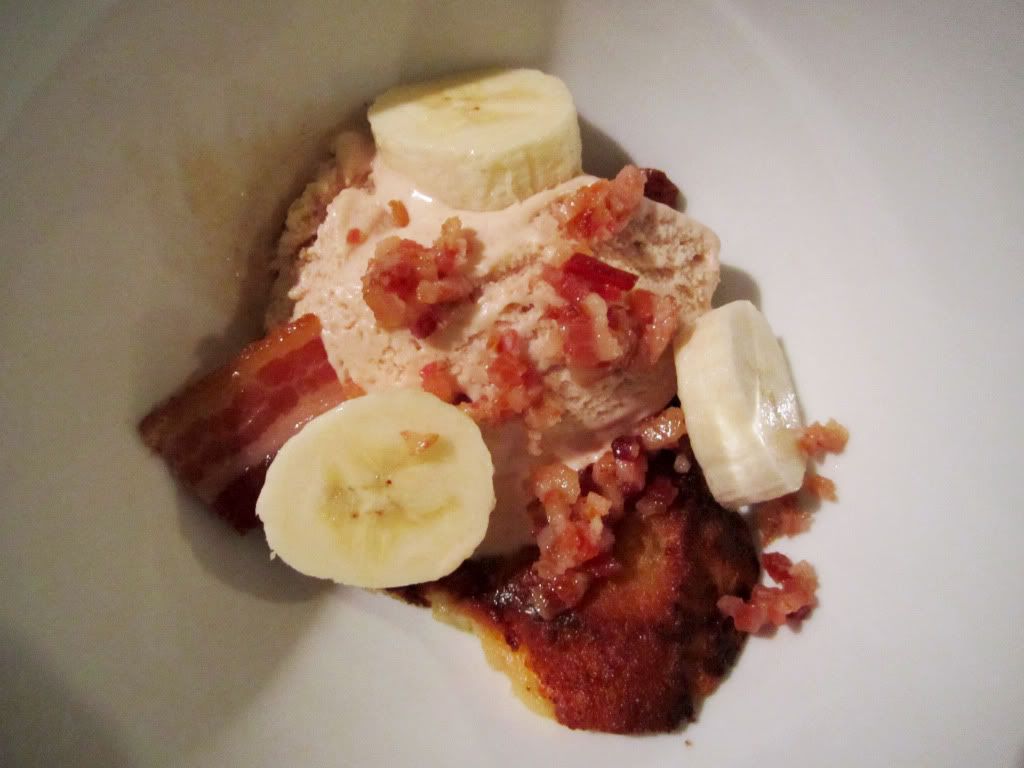 After the meal, Craig was on hand to candidly talk about what he's trying to accomplish and his motivation. He's remarkably charismatic, which stands to reason as he's essentially opening his home to strangers. His approach to food is bold, but not over the top which I appreciate. I'll be watching to see what direction Wolvesden takes and of course will be trying to get back in, hopefully this Spring.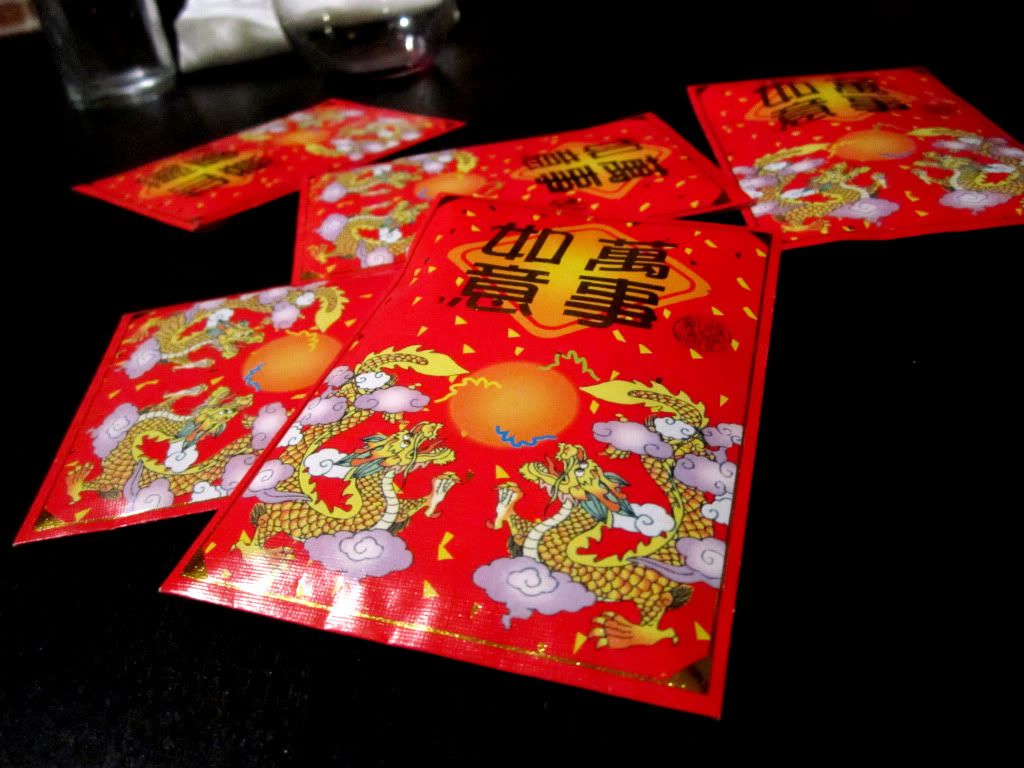 Location: I'll never tell
Palate = rocked hard with massive hangover the next morning while doing the walk of shame.