It's been over a month now since
Chef Ben Bailly
has taken over the helm at Fraîche in Culver City, CA. In that month, I've been bombarded by what seemed like daily food porn from various Southland bloggers, all gushing their food crushes on Chef Ben. Notably,
here
,
here
,
here
,
here
and
here
. I had missed out on his tenure at Petrossian, but I
refused
to miss out on Fraîche. What with the constant game of musical restaurants in Los Angeles, it's wise to get the jump before you miss the sushi boat.
Finally, after weeks of coveting, and a fair amount of drooling, I was able to finally get my rear over to Culver City on a Monday night with my usual partner in crime,
The Catty Critic
, her hubby and another fab friend Jean. Upon arriving, we saw several friends of ours enjoying the happy hour fare, and at $5 cocktails, who could blame them. I was rather surprised at the crowd on a Monday night, but at the time, I neglected to take into account that it was the MLK holiday, so that would help explain it. We were sat quickly thanks to reservations made on Open Table (be warned, parties larger that 4 persons requires a credit card hold), and the young, and dare I say, hot, chef came over to say hello. He informed us that the soupe du jour was a mushroom hazelnut soup, which sent Rosa into joyous hysterics. I wish I could say that I was exaggerating, but I'm being entirely truthful there.
A quick perusal of the menu and we were set to order. First, Ben had the first of many kind surprises as he had sent over flutes of a very nice
cuvée rosé (label, unknown). I had intended to order a signature cocktail, but as I was driving had limited myself to one drink. This was to be it, apparently. I suppose that will induce me to go back for HH. As we sat back to enjoy our drinks and chit chat, the onslaught, and I mean that in the kindest sense, began: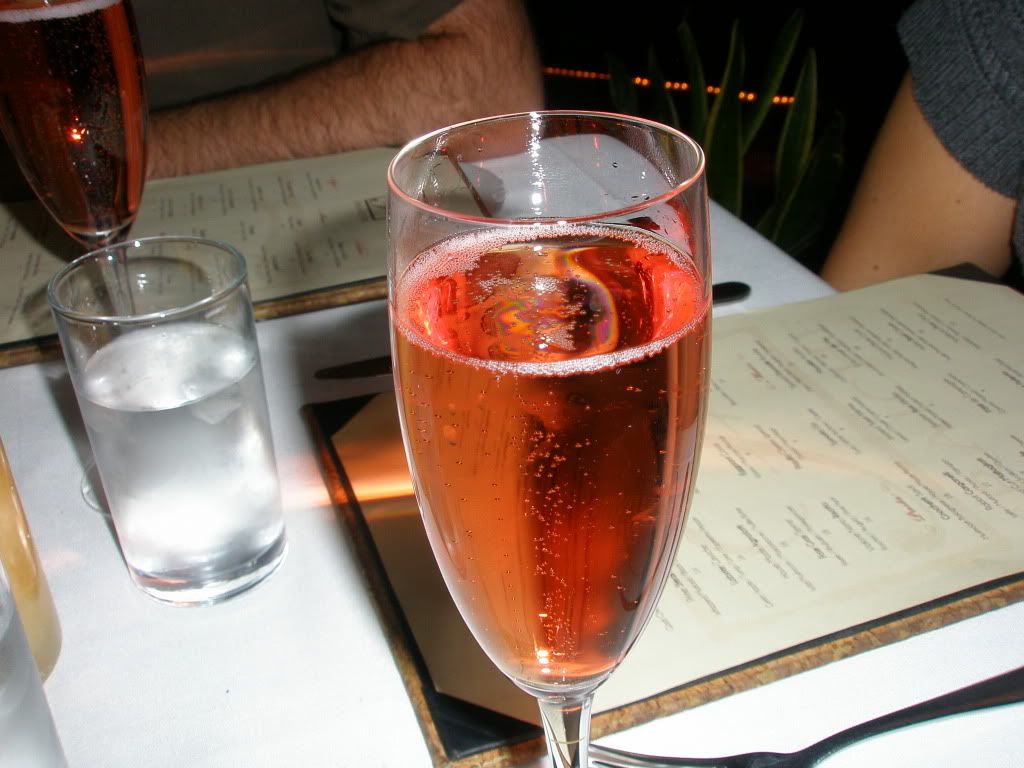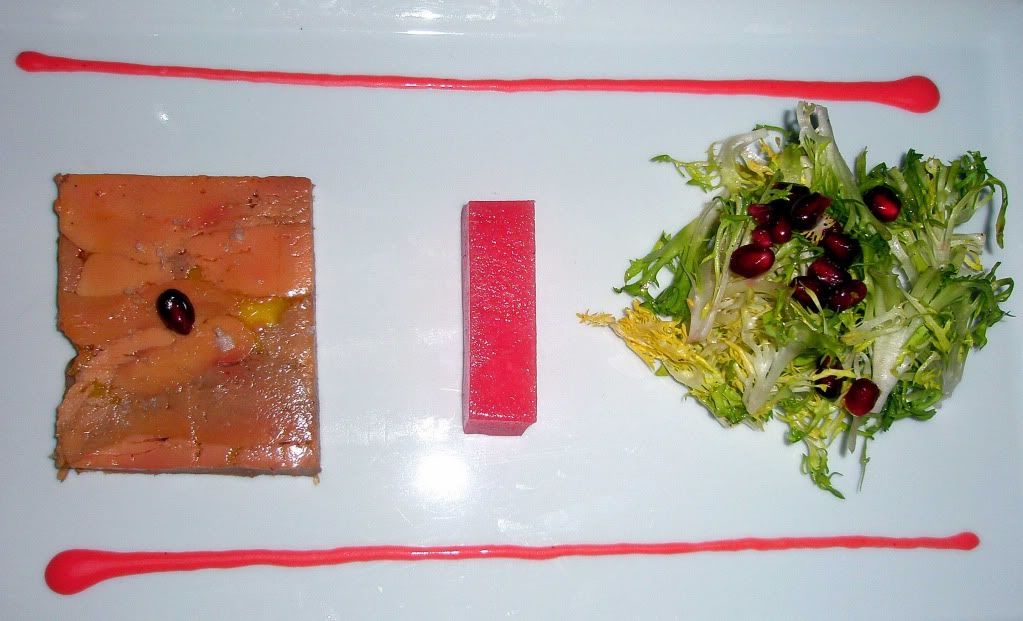 Fois Gras Terrine - frissee/rhubarb/pomegranate ($18) - I love foie. Foie, foie, foie. I rarely find fault with foie gras, in any of its incarnations, and I found none here. I really enjoyed the rhubarb gelee it came with. The combination of savory and sweet was indescribably pleasant.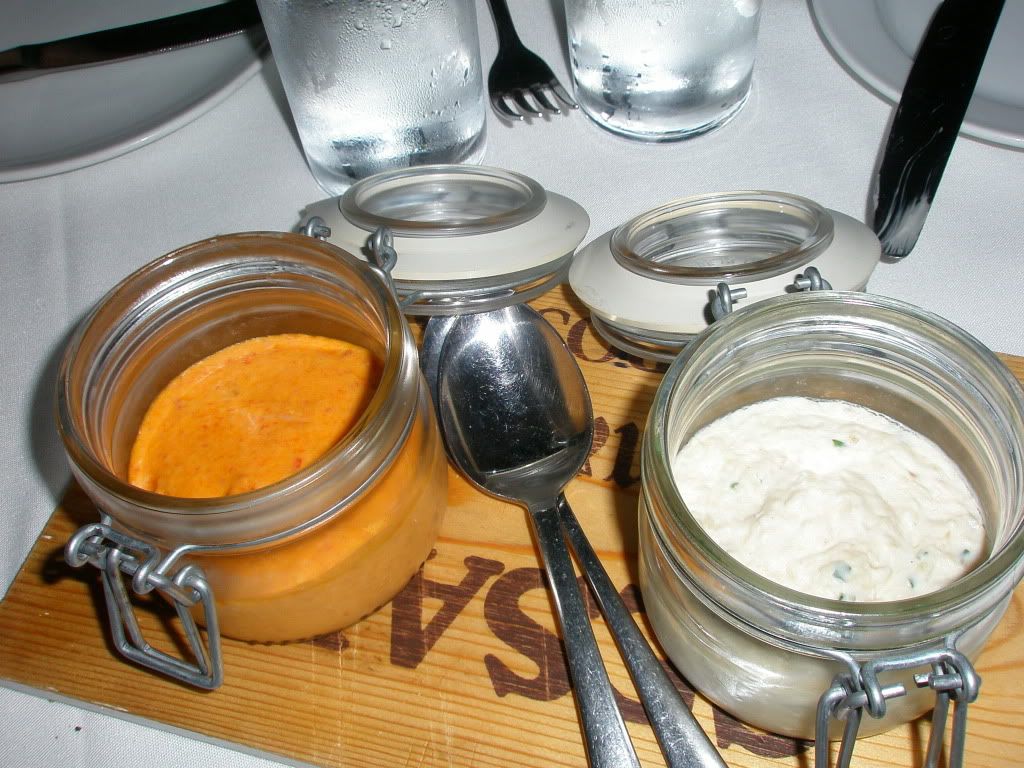 Piquillo Cheese Spread and Smoked Trout Rillettes
-
chorizo/manchego and lemon/chives/creme fraîche (respectively) ($9/each) -
I'll be honest here, the cheese spread tasted like upscale nacho cheese dip. I would serve this at a superbowl party. And if Ben is willing to part with the recipe, I just might. It was good, but the smoked trout rillette was right up this fish lover's alley. I loved the smoky creaminess, and it was amazing on the house made bread.
Soupe du Jour (Mushroom) - goat cheese ravioli/crushed hazelnut ($12) -
I do love me some mushroom soup, but this one just didn't do it for me. The mushrooms were completely overpowered by the hazelnut. It was good, but only just. The raviolis were a nice touch, but then again, they too were lost amongst the nuts.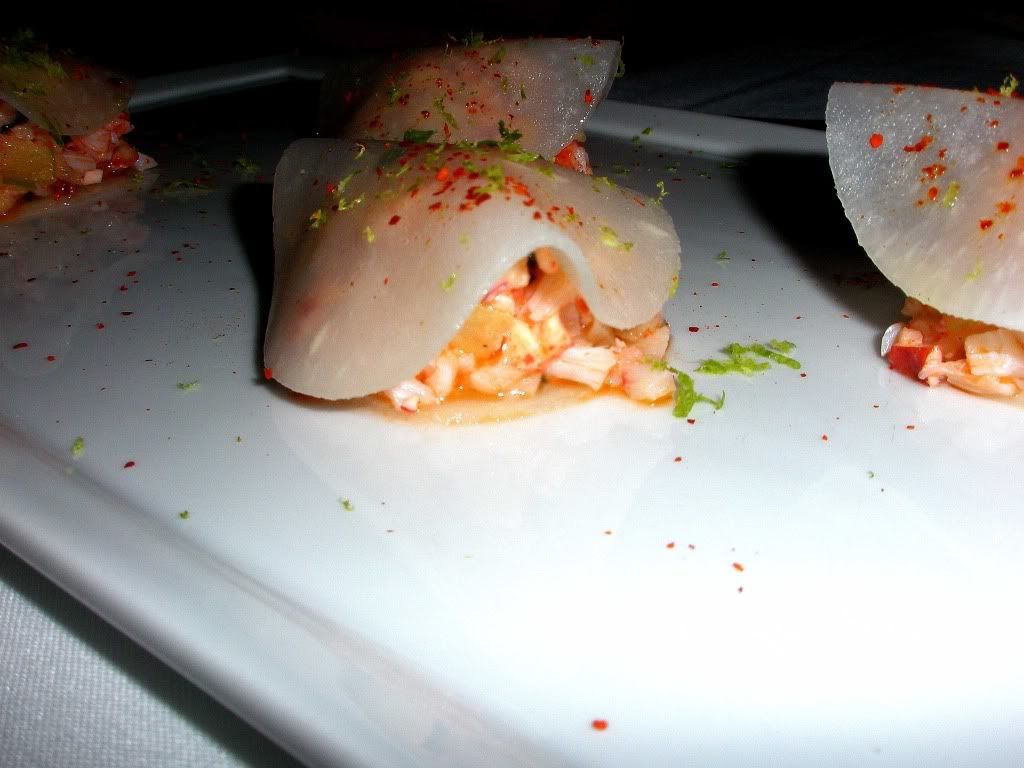 Lobster Ceviche - ($16) -
This is a new menu item designed to replace the hamachi tartare of weeks past. I left out the description for this one because I think it's wrong, it shows on the menu as green apple, but we had it with daikon radish. In fact, the server dropped it off and said it was hamachi, only it was lobster. And it wasn't ceviche. So I'm confused, and not really sure, but it was good, though a little bland.
Taglierini Neri - maine lobster/cherry tomatoes/basil ($24) -
House made squid ink pasta. So long that even as I kept twirling, it never seemed to end. Twirl and slurp, twirl and slurp. Be sure to pause long enough to gorge on the HUGE pieces of lobster. This was decidedly my favorite dish of the evening. I loved the mild brininess to the pasta. The fact that it was
fraîche only adds to the appeal.
Bucatini Carbonara - poached egg/pancetta/pecorino romano ($18) - I didn't try this one. It's Rosa's husband's favorite and as he had none of the previous dishes (picky), I didn't want to deny him the one thing he was eating.
Crispy Loup de Mer - sunchokes/wild mushrooms/salsifi/bordelaise ($28) - This was one that I maybe could have done without. I really liked the sunchokes and the crispy skin on the fish, but I was more entranced with my pasta. I may be being unfair, but I really liked the pasta.
House Made Agnolotti - wild mushroom/mascarpone/truffle butter ($16) - You had me at mushroom, but won me at truffle butter. Ever flavor played off each other nicely in this one, and though I only had one bite that night, it was a good one. It also happened to make delightful leftovers for lunch the next day.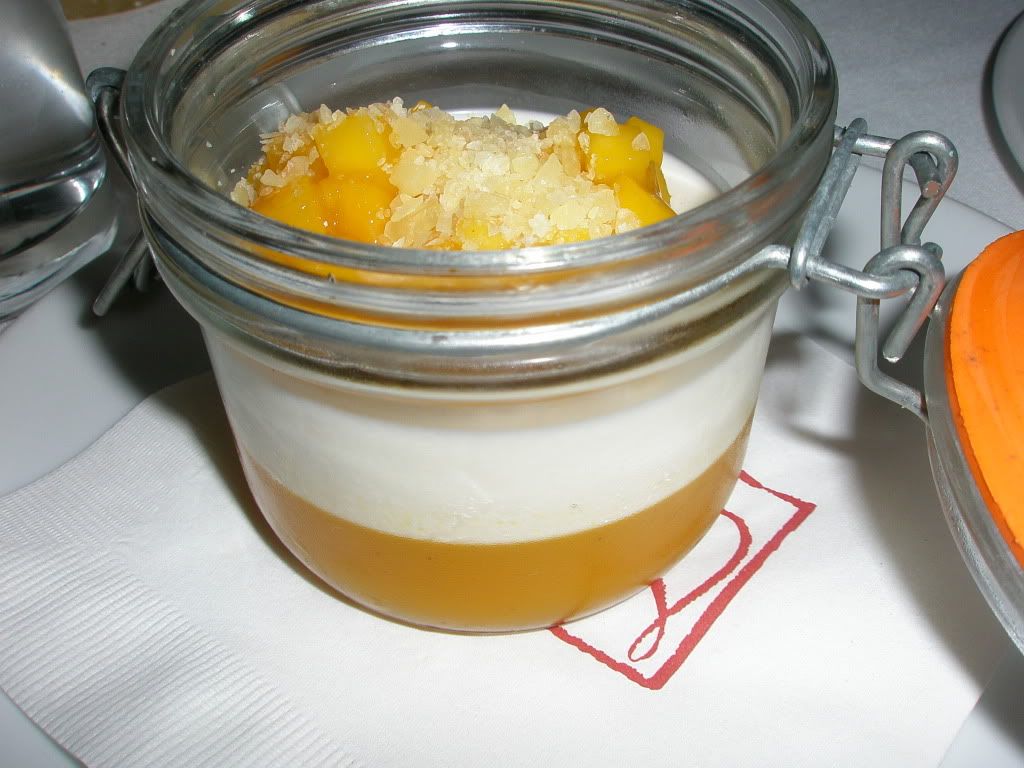 Mangos/Panna Cotta/Passion Fruit Gelee and, wait for it, POP ROCKS! ($8) - Not yet on the menu, this was creamy, refreshing and fun all in one jar. The pop rocks had the whole table laughing as they popped and sizzled between our ears. A lovely throwback to days gone by. Though I would have loved this even without the candy.
Strawberries/Pistachios/creme/Balsamic Gelee ($8) - Again, not on the menu, yet. You would think the balsamic gelee sounds gross, but it was really really nice. I love strawberries on salad with balsamic vinaigrette, so it would make sense that these would go together. This reminds me of a summer day. I hope he keeps it around, or at least brings it back when strawberries are more in season.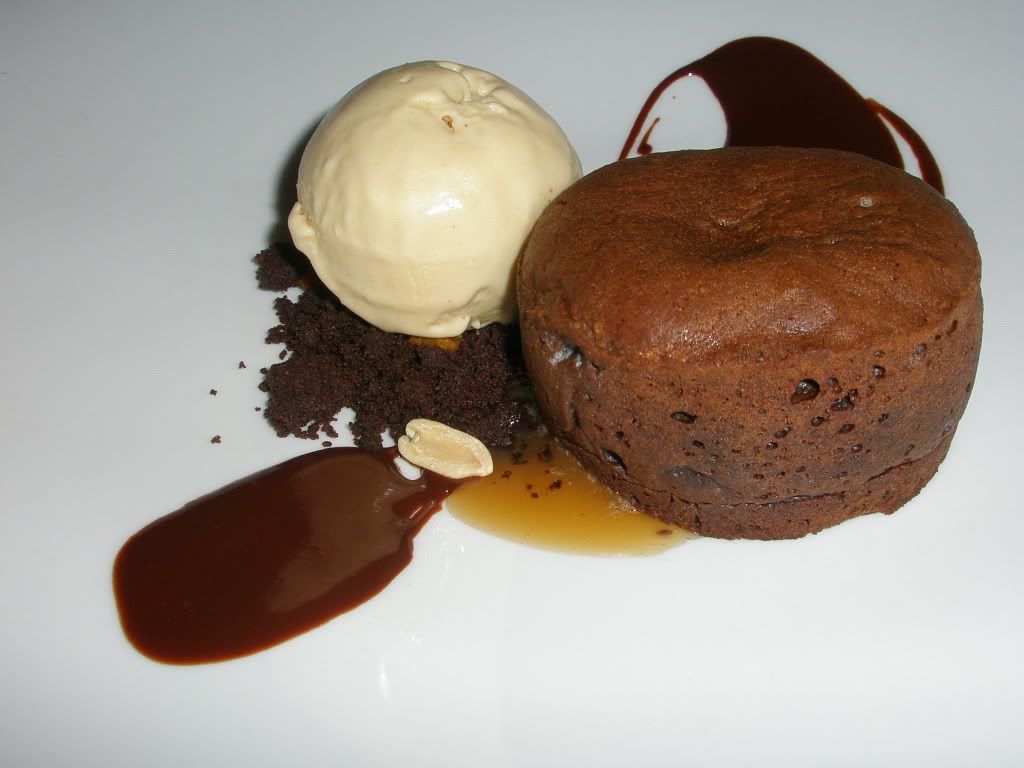 Chocolate Coulant - toffee/peanut butter ice cream ($12) - MMMMMMMMmmmmm. Warm, chocolate, rich... you know...
Pistachio
Crème B
rûlée
- apricot sorbet/rosemary crumble ($9) - I loved this. LOVED. I'm a huge fan of anything pistachio and this rocked my socks. I will say this, if you are iffy on this particular nut, then it's not for you. But that's fine, because that would mean there's more for me.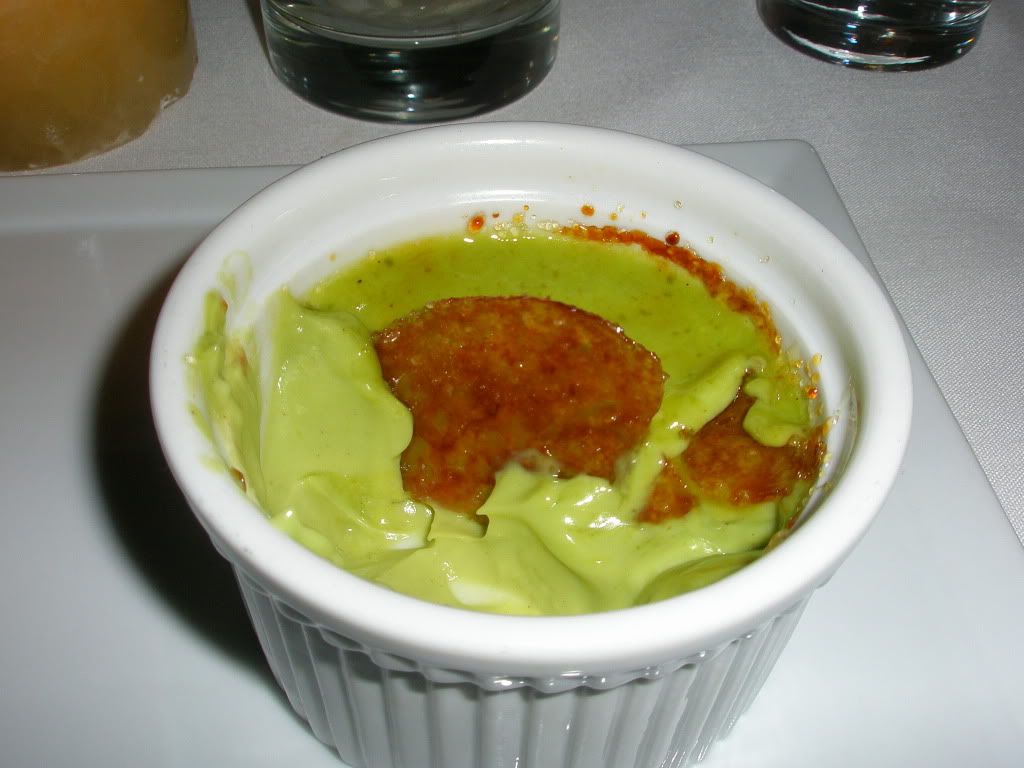 Digging in
I was incredibly pleased with my first visit to
Fraîche. I've spent the last three days dreaming of the taglierini neri and hope to get back over there soon. I'm also happy to finally have gotten to enjoy a broader range of what Ben is capable of.
Palate - TOTALLY rocked!
Fraîche
9411 Culver Blvd. Culver City, CA 90232
Twitter
Facebook